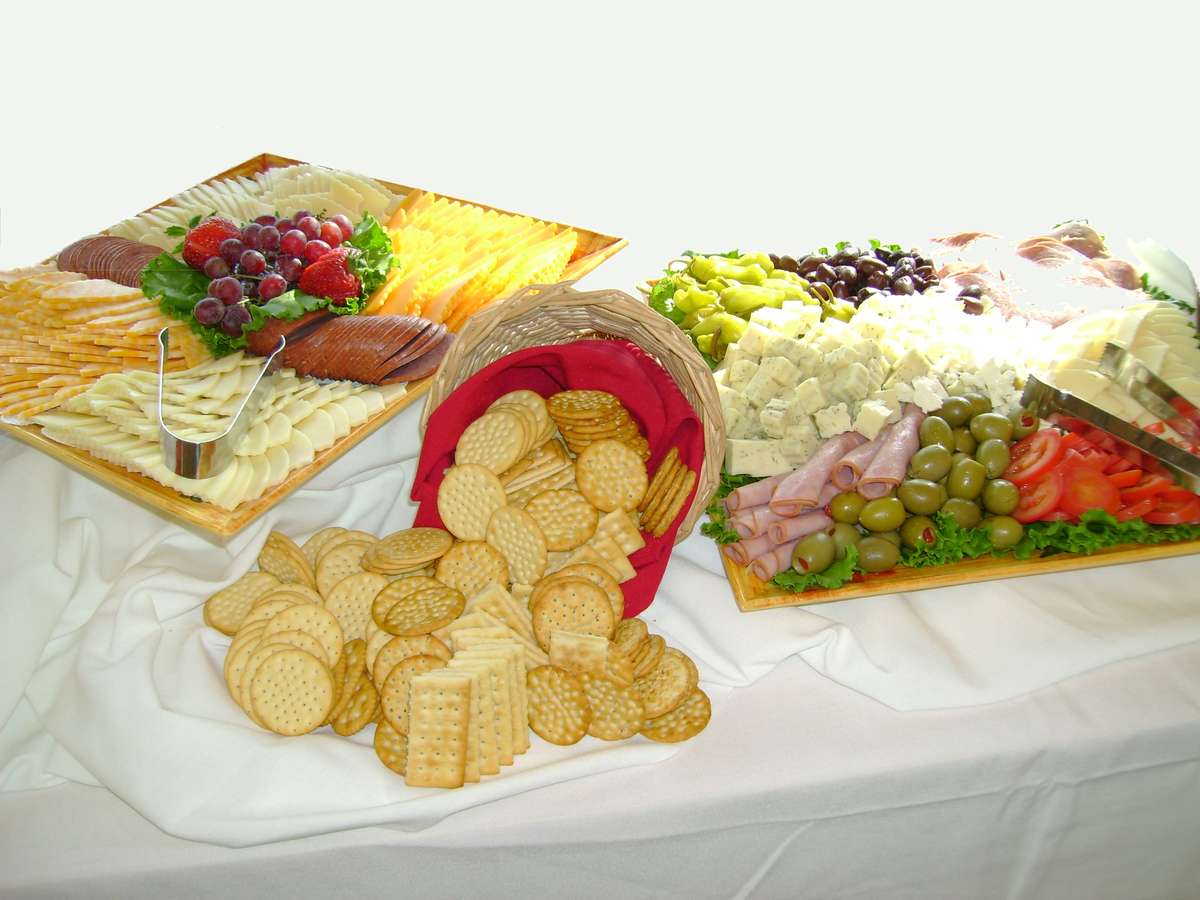 Full Service
General Information
Menu, Prices, Charges and Guest Counts
Menu Selections
These menus are suggestions only. Our catering staff would be pleased to customize a menu to meet your needs. If you or your guests have special dietary requirements (gluten, dairy free, vegan, etc.), we will try to accommodate all requests as best as we can. Special diet requests will need to be ordered ahead of time. If you are planning a sit down dinner, we ask that you limit your entrees to two choices only. If more than two entrees are necessary (including vegetarian and children's options), there will be an additional charge (usually a flat $100). Children's (age 3-10) menus and pricing are available. Customers may want to look at our hors d'oeuvres menu and picnic menu for additional menu ideas.

Table Setting Pricing
Dishware/Linens
All menus include durable high-end plastic dishware (dinner plate, salad bowl, flatware and water glass). Paper dinner napkins and biodegradable cake plates are also included if needed. Or, for our eco-friendly customers, we also have all biodegradable service. Gaylord Catering has a complete inventory of china dishes and stainless steel flatware. Full china service is $6.00 per person (includes china dinner plate, cup and saucer, glass salad plate, stainless steel flatware, water glass and disposable cake plate). If your facility has china service, we can use their china however there would be a dishwashing fee for Gaylord Catering to wash and put away the dishes.
Buffet linen table covers are included in the price. We have linen table covers (available in white, black or ivory) for guest tables at an additional cost of $8.00 to $22 per table. If you would like to upgrade to a linen napkin, the additional charge is $1 per person (usually white but other colors are available). If linen skirting is necessary, we have that available for an additional charge too.


Service Staff And Extended Serving Times
We include one server for every 50 guests attending your event. For more elaborate events, more staff will be necessary (for plated dinners for example). Additional servers will be charged $35/hour per server. Servers will set the tables, serve the meal and clean up after the meal. We understand that events do not always go as scheduled. If our staff is delayed in serving dinner the additional charges will be $35 per hour per service staff for each hour of delayed service. Please keep in mind that the quality of your food can be affected by longer holding times. For wedding receptions: We will cut and plate your wedding cake for a $100. We will serve cake to your guests for a plated dinner. Early set up may be arranged for an additional fee. If your facility is available early, we can cover your tables and set the tables with utensils and napkins at an agreed upon time.
Prices, Service Charges And Taxes
All our prices are subject to change without notice. We guarantee our prices 90 days before an event. Severe market fluctuation will result in price adjustments from time to time. An 20% service charge will be added to all dinner prices. (This is not a gratuity. A gratuity is at the discretion of the customer based on their level of satisfaction). Applicable state and county taxes will be added to the menu price, facilities fees and service charges.
Facilities Fees
Many facilities charge a catering fee for us to use their facility. The average fee is 5% - 15% of our food costs. Should your facility have a caterer's fee, these fees will be added to your final bill. The fees are passed directly to the respective location. These are mandatory fees set forth by each location.
Travel Charges
For events outside the Madison area, there is an additional mileage charge of $2.00 per mile to and from your location. Additional staff travel charges may apply.
Final Guaranteed Numbers
We need an estimated number of guests at the time you reserve our services. We require your final guaranteed number one week before your event. Your guaranteed number can be increased, but not lowered, up to 72 hours before your event. After this time, no changes will be permitted. We are always prepared to serve 5% more than your guaranteed number of guests. If we serve more meals than what you guaranteed, we will bill you for a mutually agreed upon number of additional meals.